Coconix Fabric and Carpet Repair Kit - Mix & Match Any Color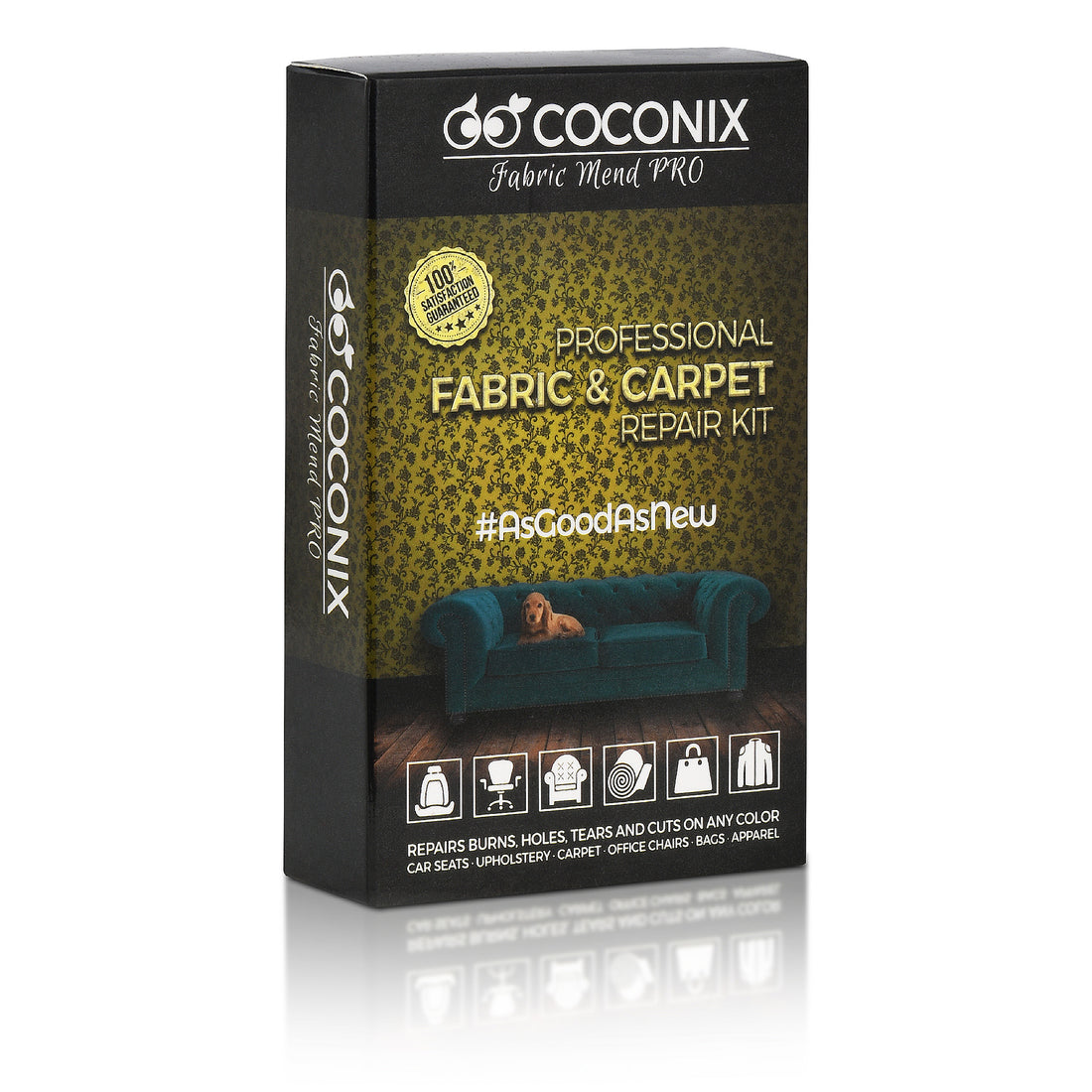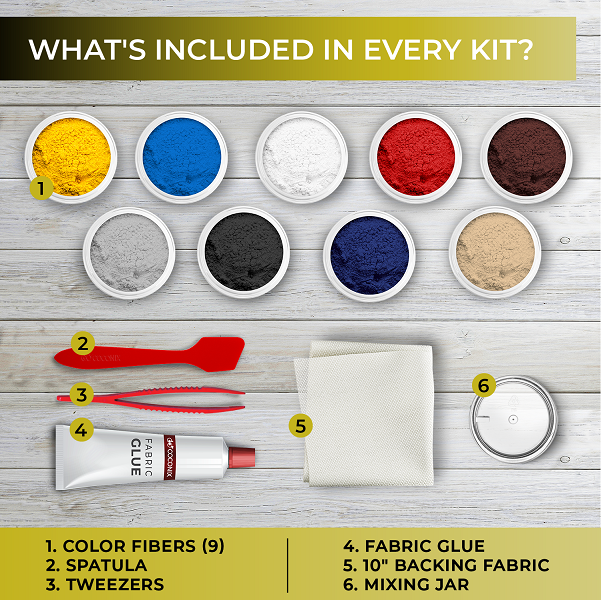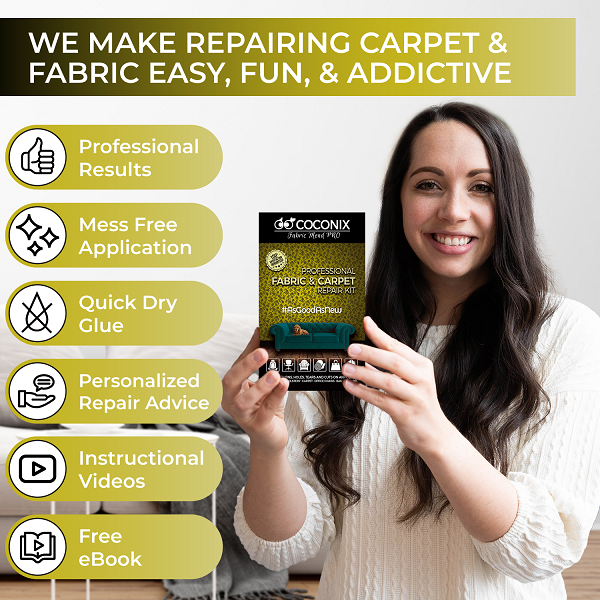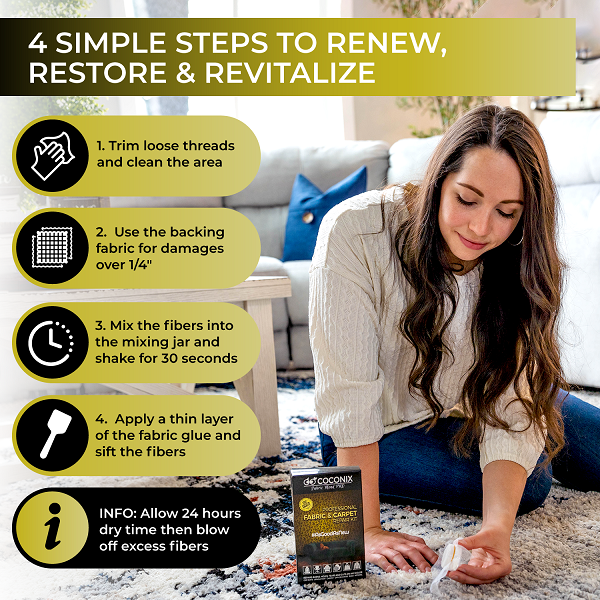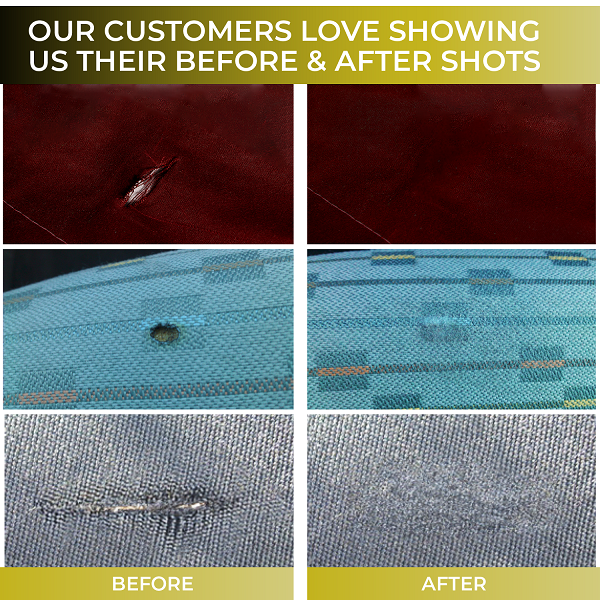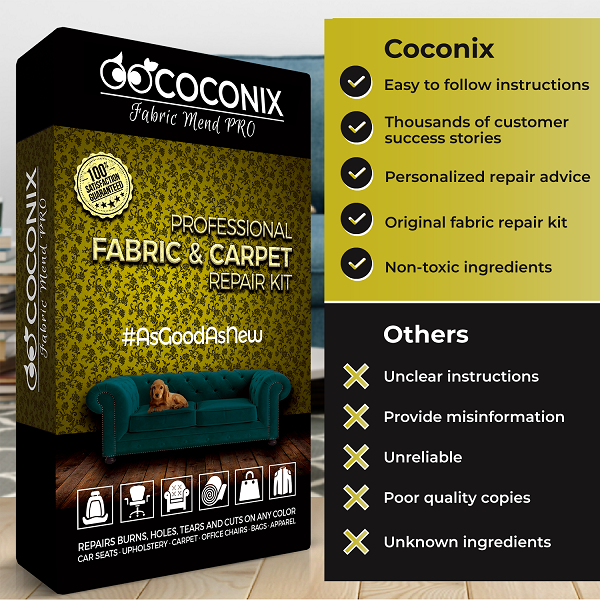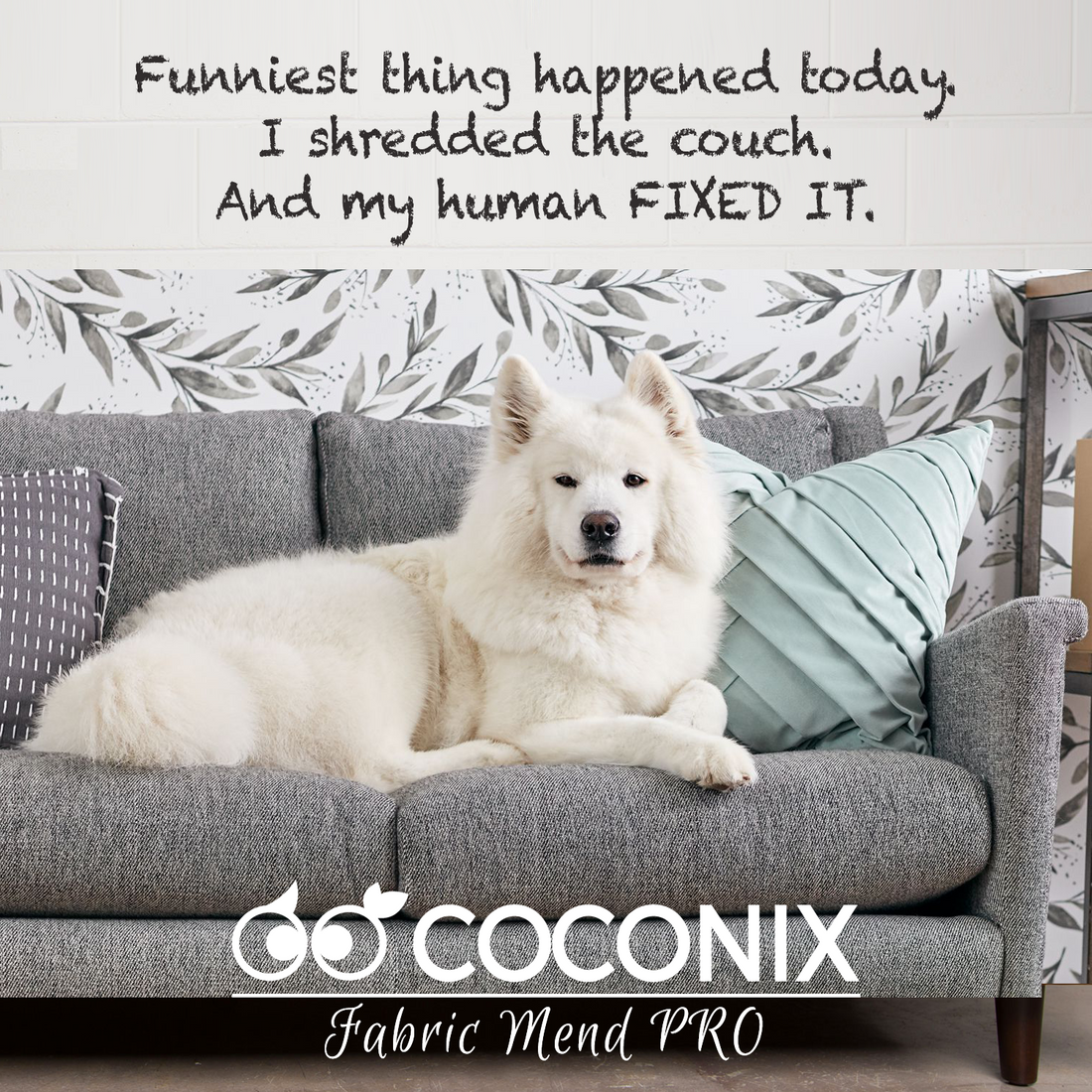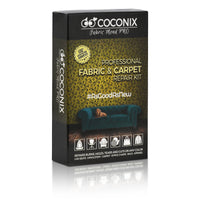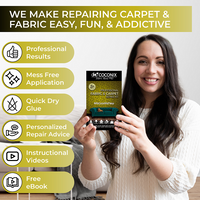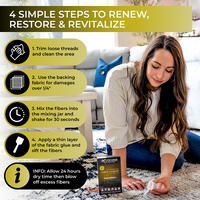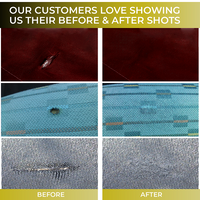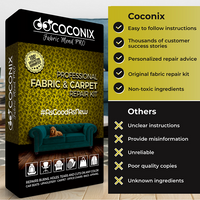 Coconix Fabric and Carpet Repair Kit - Mix & Match Any Color
"Coconix Fabric and Carpet Repair is something I've been wanting, but never knew it existed until now!"
- Stephanie, Coconix Customer

Coconix Fabric and Carpet Repair Kit is a quick and easy go to kit for anyone to use at home. It is designed for you to achieve professional results on your new or old sofa, rug, clothing, textiles or heavy duty cloth. All products necessary to complete the repair are included in the kit. No professional or technical skills required. No need for any stitching or thread.
100% NO-RISK Money Back Guarantee
Coconix Fabric and Carpet Repair Kit is excellent for repairing fabric upholstery, car seats, couches, furniture, jackets and more - Fixes cigarette burn holes, tear or rips - Super easy instructions to match any color and pattern
INVISIBLE MENDING with mix and match fabric fibers for fixing burns, holes and tears without sewing
EXCELLENT FIX that matches any color or patterned, automobile seat, interior, recliner, chair or clothes
NO STITCH OR THREAD, strong clear sew glue for a permanent, stitchless, flexible and washable fix
PROFESSIONAL RESULTS on new or old sofa, rugs, heavy duty cloth, textile, clothing, purse or pants
100% SATISFACTION AND MANUFACTURER GUARANTEE; 30 day money back and 1 year free replacement warranty.
✓ Free Shipping on ALL US orders
✓ Currently, we are only able to ship within the United States of America, but we are looking to expand internationally soon! We hear you and we're working hard to make it happen!
✓ Most US based orders are shipped directly from our warehouse within 24-48 hours for your convenience and maximum efficiency.
✓ From purchase to delivery the estimated arrival time of your package is 2-5 days.
Our team of repair experts would love to hear from you! Contact us at support@coconix.com for any questions about our product and your repair.
Your entire fabric and carpet repair in one kit.
ALL YOU NEED TO BRING YOUR FABRIC COUCH OR CARPET BACK TO LIFE. FROM MORNING TO LUNCH.

Use this kit to repair your fabric couch, car seat, office chair, rugs, cushions, carpet, you name it!
Coconix Fabric and Carpet Repair Kit
How To Repair Carpet and Fabric Burns and Holes
Follow these 5 easy steps!
We've tried and tested it on every kind of damage.
DESIGNED FOR YOU TO ACHIEVE PROFESSIONAL RESULTS ON NEW OR OLD FABRIC UPHOLSTERY, HEAVY-DUTY RUGS, AND CARPETS.

No need to worry if it will work! We've tested it on every kind of fabric and carpet damage. You name it and we've tried it plus thousands of our other satisfied customers have! The kit includes all of the products necessary to complete your repair as well as easy-to-follow instructions and personalized customer support from our team.
Renew. Restore. Revitalize.
EASY RESTORATION FROM MORNING TO LUNCH.
READY TO USE IN LESS THAN 24 HOURS.
Over time household items will encounter a few minor scratches, cuts or holes that aren't quite large enough to result in a replacement. No one appreciates when their cat scratches their beloved couch or wear and tear gets the best of their old car seats!


But this doesn't have to be a reason to disregard them. Every year, 15m tonnes or $10 billion worth of household furniture items get discarded in the US alone (Ellen McCarthur Foundation). We're here to decrease that figure and bring love and life back to your household items.


Start with it on one item and see where your repairs take you. Once you realize how easy they are you won't want to stop. We promise it's that addictive and easy!


The environment needs us and your bank account appreciates us.
See what people are saying!
Philly
On Coconix Fabric and Carpet Repair Kit
"Just like new after using this kit! This product worked great on a cigarette burn on my outdoor carpet. Nicely packaged, really good instructions, and a perfect selection of colors. Didn't need to even blend colors and had a perfect match. Highly recommend this to anyone who needs to fix their carpet."
rockymtn
On Coconix Leather and Vinyl Repair Kits
"This tear on my seat started small but was starting to get bigger. I got a quote from a local seat repair place that wanted $150 to fix this! So happy I found this Coconix repair kit because it worked great and was a fraction of the cost👍🏻"
Kim S.
On Coconix Leather and Vinyl Recoloring Balms
"Saved my favorite purse. I've owned and loved this leather purse for almost 25 years, but it was pretty worn and shabby looking and I stopped using it but just couldn't bring myself to throw it away. Then I found Coconix leather balm and decided to give it a try. It was so easy to use! I chose a darker color because I had an ink stain on the back and thought it would cover better. While I can't say it looks like a brand new purse (after all, it's OLD!) it definitely looks great and I can now carry my favorite purse for years to come."
Matthew B.
On Coconix Floor and Furniture Repair Kit
"Great Repair kit, seriously blown away! The results speak for themselves!"